El nido vacío
Sixth film from the Argentine director Daniel Burman, author of Esperando al Mesías (2000), El abrazo partido (2004) and Derecho de familia (2006). El nido vacío explores the emptiness experienced when children grow up and leave home, suddenly revealing the marital cracks (hidden for years beneath the everyday noise and chaos of family life). In El nido vacío, it's Leonardo, a successful if somewhat weary author, who finds himself in this situation. Uncomfortable in the social situations demanded by his life as a member of the middle classes in Buenos Aires, Leonardo behaves like a man on the verge of a middle-age crisis, indulgent towards his neurosis and phobic towards the changes occurring around him.
Festivals & awards
Beste Kamera, Bester Schauspieler, Filmfestival San Sebastian
Robert Bresson Award Venice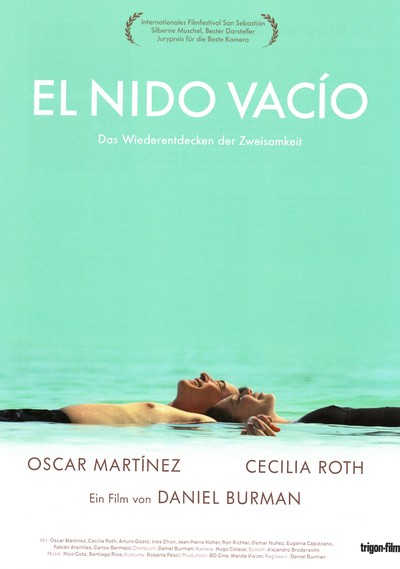 Credits
Original Title
El nido vacío
Film Editing
Alejandro Brodersohn
Soundtrack
Nico Cota, Santiago Río Hinckelmann
Cinematography
Hugo Colace
Production Design
Aili Chen
Production
Anahí Berneri, Daniel Burman, Diego Dubcovsky, José María Morales, Miguel Morales, Sebastián Ponce
Cast
Oscar Martinez, Cecilia Roth, Arturo Goetz, Inés Efron, Jean Pierre Noher, Ron Richter, Osmar Núnez, Eugenia Capizzano, Carlos Bermejo, Fabián Arenillas
Would you like to show this movie?

Please fill out our form.
Press voices
«Die Trennung zwischen realer Welt und Vorstellungswelt ist aufgehoben. Das ist bizarr, romantisch oft komisch und macht aus einer einfachen Geschichte ein Kinoerlebnis.»
SF DRS, Enno Reins
«Kein Wunder gehört Daniel Burman zu den schillerndsten Filmemachern des jungen argentinischen Kinos. El Nido vacío ist ein Genuss. Die aussagekräftigen und sinnlichen Bilder machen den Film sehenswert. Die Spielereien zwischen Fantasie und Realität sind originell.»
Ronny Nenniger, energy zürich
«Réalisateur plus que prometteur, Daniel Burman traite cette crise de la cinquantaine avec autant de finesse que de fantaisie et de souci du détail. Un bijou.»
La Tribune de Genève, Edmée Cuttat
«Eine Schule des verstohlenen Sehens ist dieser Blick auf das leere Nest, die Ehe eines Paares nach dem Ausfliegen der Kinder.»
Michael Sennhauser, Radio DRS
«Burman réussit un film tout en finesse. Pour vous faire une idée du style, imaginez un Claude Sautet ou un Carlos Saura tiraillé entre l'incommunicabilité d'Antonioni et la fantasmatique de Fellini.
Le Temps, Norbert Creutz
«Daniel Burman inscrit son œuvre au cœur vif du cinéma argentin qui se manifeste richement aujourd'hui. Après Fernando Solanas qui montra bien les désastres financiers de la nation par des sujets proches du reportage, la nouvelle génération sait indiquer, avec la caméra, le relevé de son histoire récente et de ses rapports nécessaires avec le reste du monde.»
Le Matin Dimanche, Freddy Buache
«Die Figuren in "El nido vacío" sind psychologisch gut gezeichnet und überzeugen durch Tiefe und Lebendigkeit.» Filmportal «Ein virtuos inszeniertes Drama von sanfter Melancholie über das Akzeptieren des Älterwerdens und der eigenen Vergänglichkeit.»
NZZ am Sonntag
El nido vacío ist ein facettenreicher Film über eine alltägliche Erfahrungswelt, die sonst weder von Hollywood noch vom Arthouse-Kino bedacht wird. (...) Ein facettenreicher Film über Träume und Ängste an einem biografischen Knotenpunkt, mit starken Schauspielern und einer souveränen Kamera.
Film-dienst, Nina Zimnik
«Der argentinische Regisseur Daniel Burman beschreibt die latente Angst vor der Trennung und die Idee des neuen Paarseins genau beobachtend und mit Feingefühl. Immer wieder begegnen SozialarbeiterInnen in der Einzelarbeit dem Phänomen des "leeren Nestes", zu dem dieser Film sensibilisieren, problematisieren und eine echte Lebenshilfe bieten kann.»
Der-andere-film.ch, Hanspeter Stalder
Burman entwirft weder ein schwer lastendes Drama noch eine prätentiöse Beziehungsstudie, sondern er führt mit ganz kleinen, feinen Gesten und subtiler Situationskomik zu einem eher überraschenden Finale.
Aargauer Zeitung
Daniel Burman, der seit seinem vorletzten Film El abrazo partido auch schon als "argentinischer Woody Allen" bezeichnet wurde, ist nun dem grossen Amerikaner noch ein ganzes Stück näher gekommen. Dabei erweisen sich Burmans materiell saturierte Stadtneurotiker bezüglich Wortdurchfall und fleissiger Kultivierung seelischer Wehwehchen ihren amerikanischen Wahlverwandten als durchaus ebenbürtig.
NZZ
Der Film sinniert feinfühlig poetisch über die neue Zweisamkeit einer Ehe, nachdem die Kinder ausgezogen sind.
Art-tv
«Il se dégage du film une atmosphère de gravité et de mélancolie mêlées, que vient briser çà et là un contrepoint comique.»
Positif
«A man and a woman floating on water. An image, suggesting both tranquillity and death. "EMPTY NEST" started with a series of images and ideas about the space that kids occupy and later leave empty. About marriage, about the couple. The film has a lot to do with accepting one's own decline. I think that in order to deal with this, our only escape lies in the creation of a fantasy world.» DANIEL BURMAN