Medusa
Today, Brazil. Mariana, 21 years old, belongs to a world where she must do her utmost to keep up the appearance of a perfect woman. In order to resist temptation, she and her girlfriends try their best to control everything and everyone around them. And that includes the town sinners. At night, their girl squad put on masks, hunt & beat up all women who have deviated from the right path. However, the day will come when the urge to scream will be stronger than it ever has been...
Festivals & awards
Internationales Filmfestival Innsbruck: Gewinner Spielfilm-Wettbewerb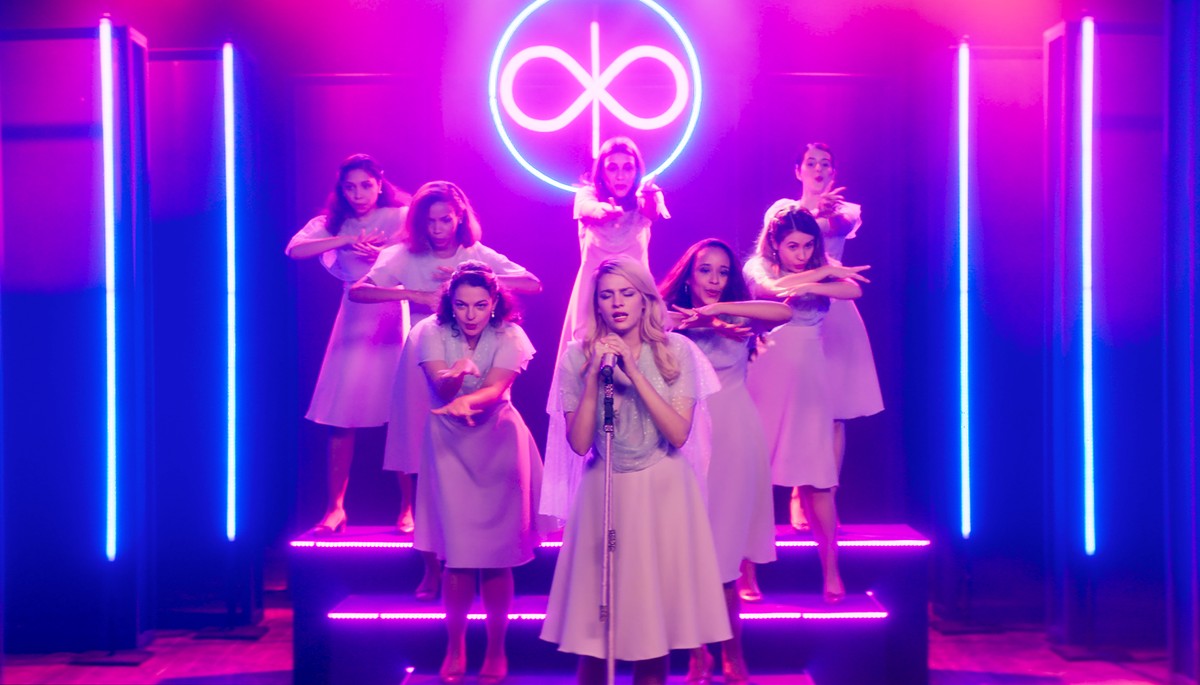 Credits
Directed by
Anita Rocha da Silveira
Screenplay
Anita Rocha da Silveira
Film Editing
Marilia Moraes
Production Design
Dina Salem Levy
Production
Bananeira Filmes
Language
Portugiesisch/d/f
Cast
Mari Oliveira, Lara Tremouroux, Joana Medeiros, Felipe Frazão, Bruna G, Carol Romano, João Vithor Oliveira, Bruna Linzmeyer, Thiago Fragoso
Would you like to show this movie?

Please fill out our form.
Press voices
«La bande-son envoûte, le propos choque et ce mélange étrange et imprévisible crée une atmosphère troublante, qui scotche le spectateur dans son fauteuil.» Cineman, Marine Guillain
«Ein bildgewaltiger Trip: Medusa ist voller knalliger Farben, und Gewaltszenen werden wie Tänze choreografiert. Eine faszinierende Abrechnung mit der religiösen Rechten.» Tages-Anzeiger / Züritipp, Gregor Schenker
«Le film d'Anita Rocha da Silveira illustre de manière poignante l'extrémisme religieux à l'ère de Bolsonaro.» j:mag, Firouz Pillet
«In Anlehnung an den antiken Medusa-Mythos hat Anita Rocha da Silveira einen feministischen Fiebertraum geschaffen, der sich der gewaltvollen Masken des Patriarchats mit ästhetischer Wut entledigt.» Neue Zürcher Zeitung, Sebastian Seidler
«L'œuvre d'Anita Rocha da Silveira donne ainsi un aperçu d'un certain christianisme 2.0. Glaçant.» clap, Raphael Fleury
«Anita Rocha da Silveira hat mit Medusa ein hochpolitisches Film-Manifest gegen die Unterdrückung geschaffen.» Medientipp, Natalie Fritz
«Eine fesselnde Parabel über Religion, Politik und Gewalt im heutigen Brasilien.» Film Festival Zürich
«Kunstvoll, mit einem schönen Farbkonzept und mit durchwegs gutem, vor allem weiblichem Cast. Auch die Story ist erstklassig, zwischendurch sogar mit schrägem Humor gewürzt. Kurz: Medusa ist das, was man einen subtilen, unterhaltsamen Horrorfilm nennen kann!» Movie Eye, Benny Furth
«Medusa ist eine experimentelle Satire auf den Umgang der Bevölkerung und der Staatsmacht mit Religion, die Rolle der Frau und die politisch schwierige Situation in Brasilien.» Outnow, Yannick Bracher
«Ein Rundumschlag, pendelnd zwischen Groteske und Horror, voll auf die Zwölf des internalisierten Machismo.» Viennale, Alexandra Seitz
«Anita Rocha da Silveira spielt die Satire furios aus gegen das Melodram.» Süddeutsche Zeitung, Fritz Göttler
«Medusa von Anita Rocha da Silveira ist ein wildes, feministisches Manifest gegen die bleiernen Bolsonaro-Jahre. Ihr Genremix ist atemberaubend.» Tagesspiegel, Simon Rayss
«Anita Rocha da Silveira interpretiert den Mythos der Medusa als aufregende, formverspielte Parabel über den Widerstand gegen reaktionäre Gesellschaftsmuster.» artechock, Janick Nolting
«Eine spannende Rache-Gesellschaftssatire mit skurrilen Figuren und einer einnehmenden künstlerischen Ästhetik.» Kino-Zeit, Teresa Vena
«Ein dystopisch realitätsnahes Bild Brasiliens.» Radio FM4, Natalie Brunner
«A stylistically bold satire of Brazilian youth in thrall to reactionary trends.» Variety
«Medusa is an electrifying work of art that elevates its already elevated pop influences, a transcendental tableau of the true-life horror of female oppression.» Film Threat