Que tan lejos
Self-discovery journey of two girls in their mid twenties while they travel along the Ecuadorian mountains and coasts. Esperanza (Hope) and Tristeza (Sadness) will not find postcard views or perfect love, but their journey will teach them there's a world beyond that.
Festivals & awards
La Habana, Segundo Premio Coral
Festival mundial de Cine de Montreal
Cenit de Plata Festival de Cine Quito
Best Iberoamerican Movie Festival latinoamericano de Cine Sao Paulo
Prix du public Festival Filmar en America latina 2008, Geneva
Prix du public Festival Cinesul, Rio de Janeiro
Prix du Public-Meilleur film Festival Cinesul, Rio de Janeiro,
Prix du Public Festival International de Cinéma de Moscou
Festival du Cinéma Cero Latitud, Quito Prix du Meilleur film Ibéro-américain, Prix du Public, Prix Regard de Femme
Prix Signis Rencontres de Cinema Latino de Toulouse
Découverte Festival Latino-americain de Cinema de Lima, Perou
Festival de Cinema de Malaga, España
Festival du Cinéma des Amériques, Austin, Prix Spécial du Jury
Prix du Public Festival de Cinema de Guadalajara, Mexico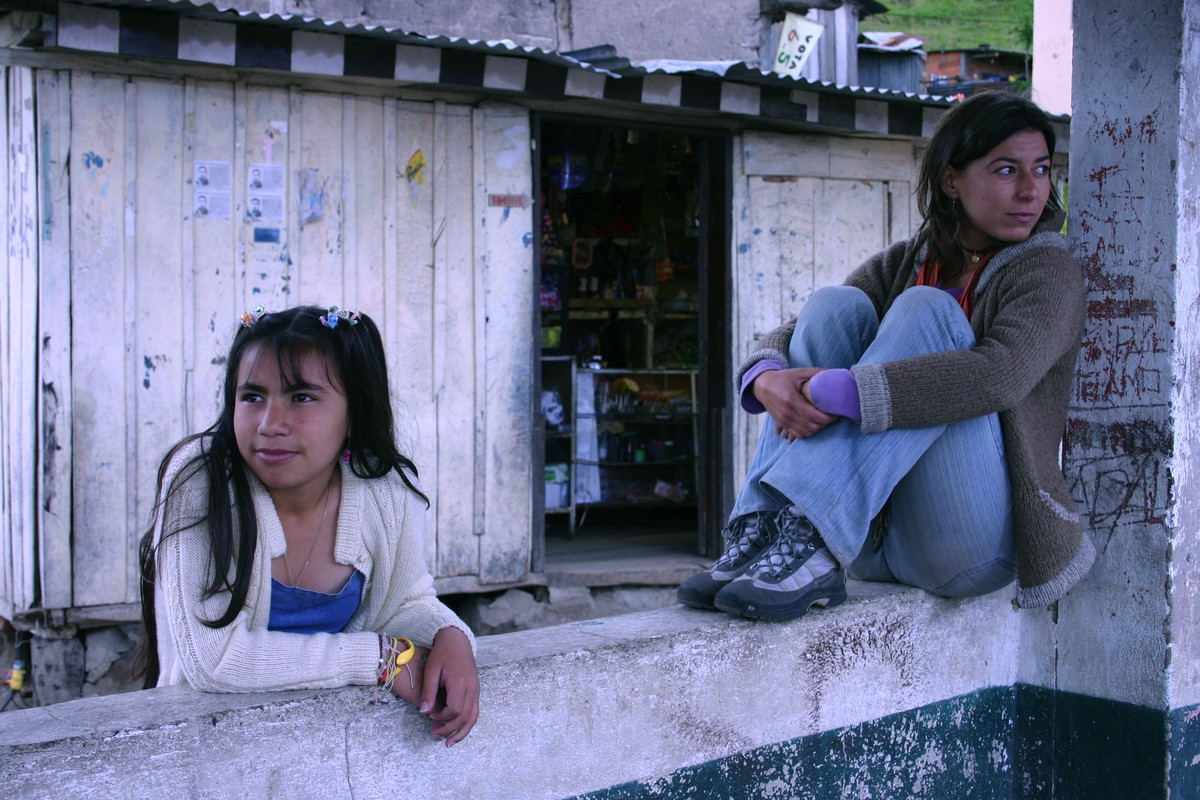 Credits
Original Title
Que tan lejos
Film Editing
Iván Mora Manzano
Cinematography
Armando Salazar
Costumes
Gabriela Villacís
Production Design
Pedro Cagigal
Production
Tania Hermida, Gervasio Iglesias, Mary Palacios
Formats
35mm, DVD, Blu-ray, DCP
Cast
Pancho Aguirre , Tania Martinez, Cecilia Vallejo, Fausto Miño, Elena Torres, José Alvear, Alfredo Espinosa Cordero, Ricardo González, Liceth Latorre, Kleber Naula, Juan Francisco Racines, Patricia Loor, Marco Ponce, Rubén Naula, Nicolás Sojos, David Rambay, Camila Zaldumbide, Cristian Alba Colcha, Carla Jarrín, Ruth Bazante
Would you like to show this movie?

Please fill out our form.
Press voices
«Qué tan lejos ist ein überzeugender Erstling und ein Film, der einem so richtig gefällt.»
Variety
«Qué tan lejos ist eine der gelungensten Entdeckungen im Kino Lateinamerikas, mit einer universellen Reise.»
El Eco
«Der Film nimmt uns mit, mit Bildern und mit seiner Einfachheit und hinterlässt Erinnerungen und noch mehr Bilder.»
ensuite
«Tania Hermida ist mit ihrem ersten Langspielfilm ein visuell wunderschön ruhiger Film gelungen, der durch prägnante Dialoge Witz und Ironie erhält.»
Wochenzeitung
«Die Zuschauer halten machmal den Atem an ob der Schönheit der Aufnahmen.»
News
«Das Porträt eines unbekannten Landes – voller Charme und Lokalkolorit.»
gezeteraonline
«Sympathisch die Filmfiguren, atemberaubend die Landschaftsbilder, die perfekt mit passender Musik untermalt sind. Das alles macht den Film zu einem vergnüglich unterhaltsamen Roadmovie. Die Story ist linear erzählt und überzeugt mit einer echten, realistischen Stimmung. Ein weiterer lateinamerikanischer Kinofilm, den es zu entdecken gilt! «Qué tan lejos» ist in Ecuador der bis heute erfolgreichste Film. Er gewann unzählige Publikumspreise und erhielt die Auszeichnung für den «Besten lateinamerikanischen Film des Jahres».»
Art-TV
«Qué tan lejos ist ein sanfter Film über das Reisen, das Unterwegssein und über Begegnungen zwischen Menschen.»
20 Minuten
«Qué tan lejos ist ein solides Roadmovie, das einen vielfältigen Blick auf ein Land erlaubt.»
Aargauer Zeitung
«Eine kurzweilige Meditation über das Reisen.»
Blick am Abend
«Dass der Film in Ecuador der erfolgreichste einheimische Film aller Zeiten wurde und auch im Ausland Erfolg verzeichnen konnte, ist sicherlich nicht von ungefähr. Da Qué Tan Lejos ein realistisches Bild des Andenlandes samt seiner landschaftlichen Schönheit und seinen politischen Problemen vermittelt, ohne je etwas Schönmalen zu wollen, erweist sich der Film für jedermann als interessant. Die poetisch anmutende Erfassung der Landschaft und die unkomplizierte und ehrliche Art der drei Reisenden verleihen dem Film eine sehr persönliche Note, welche wohl manchen Zuschauer emotionell berühren und zum Nachdenken anregen wird.»
Students
«Ecuador und die Anden bilden die atemraubende Kulisse für dieses sympathische Roadmovie mit starken Frauen.»
Film Demnächst
Leichtfüssig, herrlich kontrastreich in den Dialogen, mit Figuren von berührender Einfachheit. Fotogramas Anregend, reif und mehr als ein vielversprechendes Debüt.
El País
«Un THELMA ET LOUISE équatorien»
Qué !, Ariane Basaguren
« SI LOIN (Qué tan lejos) a révolutionné le panorama culturel du pays. Et il n'y aura pas de retour en arrière.»
Fotogramas, Nuria Vidal