Au revoir Taipei - Yi ye Tai bei
Kai, a brokenhearted young man from Taipei, yearns to be with his girlfriend, who's left for Paris. He spends his days working at his parents' noodle restaurant and his nights trying to learn French at the local bookstore, where he meets Susie, a sweet but lonely girl who works there. Afraid of losing his girlfriend, and in need of money to get to Paris, he accepts a dubious offer from a local gangster – deliver a mysterious package to Paris. It's the beginning of a wild night for Kai, at the end of which he realizes that leaving both Susie and Taipei will only take him further away from true love.
Festivals & awards
NETPAC-Preis an den besten asiatischen Film, Berlinale 2010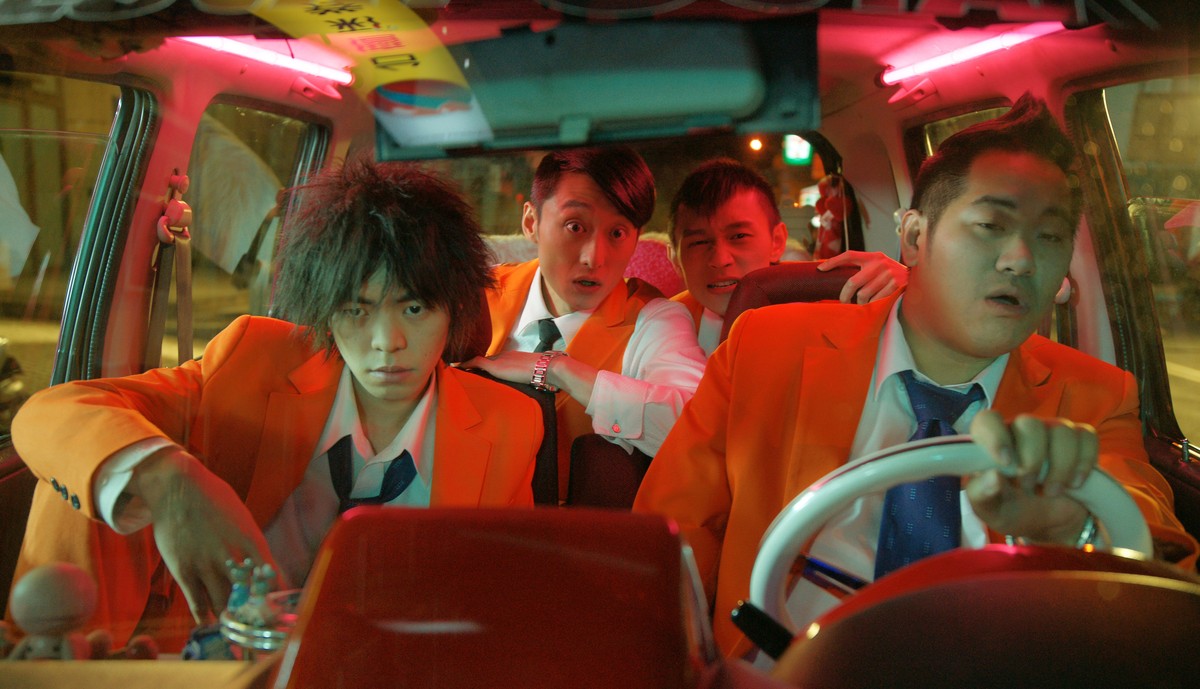 Credits
Original Title
Au revoir Taipei - Yi ye Tai bei
Title
Au revoir Taipei - Yi ye Tai bei
Film Editing
Justin Guerrieri
Cinematography
Michael Fimognari
Production Design
Mei-Ching Huang
Production
Atom Cinema, Taipeh; Greenskyfilms Inc., LA
Formats
35mm, DVD, HD, Blu-ray
Language
Mandarin, Taiwanesisch/d/f
Cast
Amber Kuo, Jack Yao, Joseph Chang, Lawrence Ko, Frankie Gao
Would you like to show this movie?

Please fill out our form.
Press voices
«Unterstützt von einem wunderbaren Darstellerensemble, vermengt er in Au revoir Taipei virtuos Slapstick und Romanze, Spannung und Skurrilität
zu einem Werk voller Wärme und Hingabe.» Christoph Terhechte
«Taipeh mit seinen lebhaften Suppenküchen und einsamen Nebenschauplätzen leuchtet in diesem komödiantisch verspielten Grossstadtfilm in allen Nachtfarben; vor allem visuell hat Chens Erstling Atmosphäre.» Züritipp

«Arvin Chens erster Spielfilm, "Au revoir Taipei", ist nun eine Liebeserklärung an die Hauptstadt, die hier in allen Farben der Nacht schillert. Es ist eine charmante Galerie von Träumern und Gaunern, die hier durchs nächtliche Taipeh trudeln.» Tages-Anzeiger, Florian Keller
"Deux acteurs merveilleux, magnifiques, avec une belle complicité à l'écran. Tout ça est vraiment magique. (...) Un délice!"
RSR/Synopsis
"Le plaisir est au rendez-vous dans cette équipée pleine de charme et d'humour qui éclaire Taipei comme une «ville d'amour». Oubliez Paris!"
Le Temps

"Une plongée fascinante et appétissante dans une ville riche en couleurs, en lumières et en saveurs."
20 minutes
"Les ambiances urbaines de Wong Kar-wai et les facéties des yakuzas de Kitano ne sont pas loin. Il n'en faut pas davantage pour se laisser séduire par ce film qui, comme ses personnages, flotte sur un petit nuage."
Le Courrier

"Comédie coup de cœur de notre sélection 2011, «Au revoir Taipei» parodie sans aucun cynisme le film de gangsters façon hongkongaise, avec une folie douce qui lui confère une légèreté chagrine héritée de l'enfance."
Passion Cinéma
«Eine turbulente Gaunerkomödie aus Taiwan überzeugt durch Charme und Witz – vor allem jedoch durch die heimische Küche. Immer, wenn die Verwechslungen und Turbulenzen aus dem Ruder zu laufen scheinen, wird gegessen. Die Nahrungsaufnahme als gesellschaftlicher Konsens, der selbst den ambitioniertesten Kleinganoven und die kompliziertesten Liebeswirren entschärft. Der Film sprüht vor Charme und Humor. "Au Revoir, Taipei" ist wunderbare Unterhaltungj, freundlich, herzlich und würzig gekocht.» BaZ, Annette Scharnberg
«Eine spielerische Hommage an Taipei, gänzlich in der Nacht inszeniert, weil diese Stadt sich besonders dann von ihrer bezaubernden, bunt erleuchteten und romantischen Seite zu zeigen scheint. Ein lustiger, romantischer und skurriler Film übers Verlieben und die Schönheit von Taipei.» Art-tv.ch
«An der diesjährigen Berlinale wurde der Taiwanese Arvin Chen für seinen ersten Spielfilm "Au Revoir, Taiepi" vom Publikum im Forum des jungen Films euphorisch gefeiert. Mit gutem Grund, hat er doch einen wunderbaren Genrefilm gestaltet, in dem sich eine Liebesgeschichte, eine Gangsterballade und ein Stück Slapstick zum genüsslichen Stelldichein treffen. Arvin Chens Film ist geprägt von junger erzählerischer Lust und Frische. Umwerfend sind die Möchtegern-Ganoven in orangefarbenen Anzügen. Ein Film, gemacht für verliebte Nachtvögel, verträumte Stadtmenschen und all jene, die sich wieder einmal richtig überraschen lassen wollen im Kino.» Movie News
«Ein wunderbar-schräges, lakonisch-humoriges Feelgood-Movie aus Taiwan.» Movieguide
«A perky urban dramedy that makes one smile from ear to ear.» The Hollywood Reporter
«Au Revoir, Taipei is a warmhearted romantic comedy by American-Taiwanese director Arvin Chen.» The Wall Street Journal