La nación clandestina
Sebastian Mamani returns to his Aymara community from which he was expelled long ago. He is carrying the great mask of death, he must dance until he died, in a kind of atonement for the sins that caused his exile and as a way to be reborn in his lost cultural identity.
Festivals & awards
San Sebastián International Film Festival
Golden Seashell Best Film 1989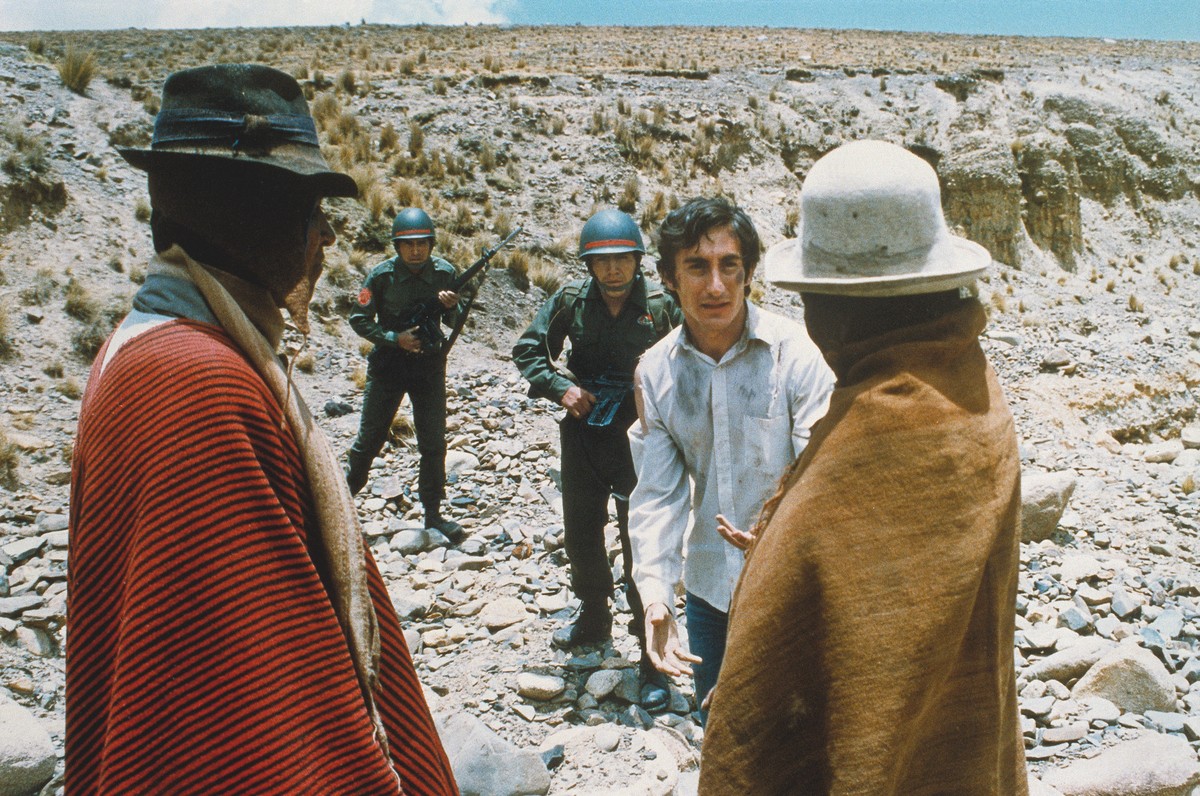 Credits
Original Title
La nación clandestina
Title
La nación clandestina
Directed by
Jorge Sanjines
Film Editing
Jorge Sanjinés
Soundtrack
Cergio Prudencio
Cinematography
Rafaél Flores, Delfina Mamani
Production
Beatriz Palacios, Grupo Ukamau, La Paz
Language
Spanisch, Aymara/d + f + e
Cast
Julio Baltazar, Orlando Huanca, Roque Salgado, Delfina Mamani, Reynaldo Yujra, Percy Brun, Zulema Bustamante, Juan Carlos Calcina, Víctor Condiri, Tatiana Mancilla
Would you like to show this movie?

Please fill out our form.
Press voices
«Der Spielfilm des grossen bolvianischen Regisseurs Jorge Sanjinés ist ein Portrait und zugleich eine Selbstartikulation alter indianischer Kultur.»
«In einer langen Rückblende wird die Genese erzählt, sehr behutsam, sehr eindringlich, mit einer wie dokumentarisch erscheinenden Authenzität.»
«Sanjinés gelingt es, den politischen Diskurs mit einem eindringlichen und faszinierenden Ansatz über Kultur und Identität zu verbinden.»
«Ein Film mit immenser Kraft, voll mit Anregungen und der Herausforderung, über vieles nachzudenken.»
«Wir glauben, dass politischer Kampf und ein starkes Bewusstsein der kulturellen Identität nicht unbedingt identisch sind, sondern dass das Bewusstsein oft durch politische Vorschläge von aussen unterwandert wird. Die können sehr wohl ihren Beitrag leisten zu einem revolutionären Prozess, aber sie dürfen den eigenen revolutionären Weg nicht entstellen.»