Lamb
Lamb is a drama about 9 year-old Ephraim and his constant companion sheep, Chuni, in the vast volcanic canyon land of Ethiopia. Ephraim's affection for Chuni deepened after he lost his mother to famine the year before. Consequently, his beloved father sends him and Chuni faraway from their drought-stricken homeland to live with his distant relatives in a greener part of the country. Ephraim soon finds himself to be a homesick outcast who is always getting into trouble. When his uncle orders him to slaughter the sheep for the upcoming holiday feast, Ephraim devises a devious scheme to save Chuni and return to his homeland.
Festivals & awards
Filmfestival Cannes 2015, Un certain regard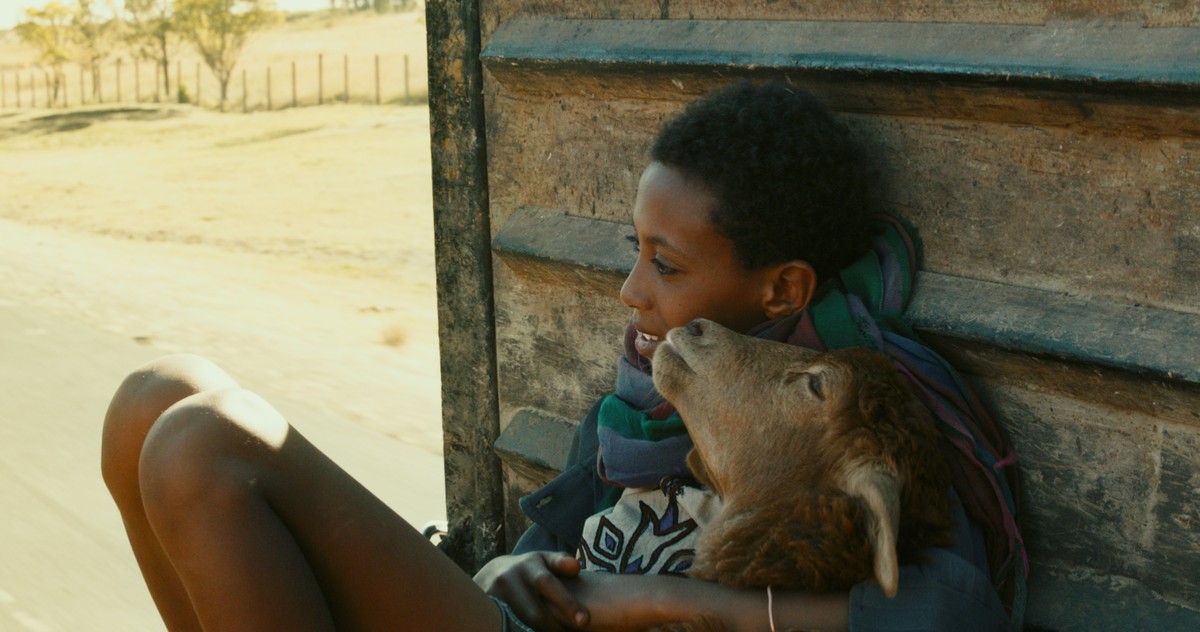 Credits
Screenplay
Yared Zeleke, avec Géraldine Bajard
Film Editing
Véronique Bruque
Soundtrack
Christophe Chassol
Cinematography
Josée Deshaies
Sound
Heinrich Röllinghoff, Rainer Heesch
Production Design
Laurence Brenquier
Production
Ama Ampadu, Slum Kid Films; Gloria Films, Heimatfilm
Cast
Rediat Amare, Surafel Teka, Welela Assefa, Rahel Teshome, Kidist Siyum
Would you like to show this movie?

Please fill out our form.
Press voices
«Tief berührend sind Ephraims Versuche, seinen Weg in einer allzu engen Welt zu finden.» Tages-Anzeiger
«Lamb ist eine Parabel über die Kindheit, die Hoffnung und darüber, dass das Loslassen auch etwas Gutes bedeuten kann.» Medientipp
«Yared Zelekes scharfes Auge für die Kultur seiner Heimat zeigt sich in diesem atemberaubend ethnografischen Erstling.» The Guardian
«Ein anrührendes, angenehm zurückhaltend inszeniertes Drama.» Cineman

«Die Entschlossenheit eines noch im Werden begriffenen jungen Menschen, der in keine Schublade passt.» Arte
«Zeleke bettet diese Selbstfindungsgeschichte mit souveräner Kameraarbeit ins Hochland um Gondar ein.» Movie News
«Beim Eintauchen in dieses unbekannte Anderswo, das von der alles beherrschenden Technologie noch unberührt scheint, kommen vergessene Gefühle auf und laden zum Sinnieren ein.» Le Temps
«Was Lamb sehenswert macht, sind nicht die etwas didaktischen Momente, sondern die authentischen Einblicke in den ländlichen Alltag und die malerischen Landschaftsbilder der französischen Kamerafrau Josée Deshaies, vor allem aber auch die jungen LaienschauspielerInnen, die der Autor in der Hauptstadt Addis Abeba aus 6500 SchülerInnen ausgewählt hat.» WochenZeitung
«Die anrührende Geschichte erzählt vom Weg eines Jungen und eines Lamms in ihre Freiheit.» 20 Minuten
«Lamb transportiert eine berührende Selbstfindungsgeschichte auf die grosse Leinwand. Als Zuschauer begleitet man Ephraim und sein Lamm auf dem langen Weg in ihre Freiheit und nimmt dabei die Botschaft mit, dass man durch Loslassen manchmal mehr gewinnt als verliert.» Tierwelt
«Ein Junge und sein Lamm. Eine Coming-of-age-Geschichte, die in einfachen, poetischen Bildern Einblicke in die äthiopische Kultur und ihre Gegensätze bietet. Ein wertvoller Film, angereichert mit viel leisem Humor.» Schweizer Radio
«Ein anrührendes, angenehm zurückhaltend inszeniertes Drama.» Cineman
«Die Entschlossenheit eines noch im Werden begriffenen jungen Menschen, der in keine Schublade passt.» arte
«Yared Zeleke's sharp eye for the culture of his homeland is showcased in this tremendous ethnographic debut.» The Guardian
«Raconté du point de vue de l'enfant, le film a la simplicité du meilleur cinéma néoréaliste. Plongé dans un ailleurs si différent qui ignore tout de notre technologie envahissante, on sent remonter des émotions oubliées qui invitent à méditer. Le Temps