Loveling
Irene lives in a crumbling house in the outskirts of Rio with her husband and her four sons. Her teenage son Fernando is a local handball star and when he's scouted to play professionally in Germany, the family has only a few weeks to ready his departure and say goodbye. The perspective of Fernando leaving is a shock and a big change in Irene's life but also a chance to see herself as a woman again and not just as a mother. Irene gets her high-school diploma, finds a new job and pushes forward with plans for a new family home. As she flourishes, things begin to look up for her family as well. Irene understands that while some things come to an end, new things start and the future is bright as long as they stick together.
Festivals & awards
Málaga Spanish Film Festival 2018:
Golden Biznaga Best Iberoamerican Film, Silver Biznaga Special Critics Award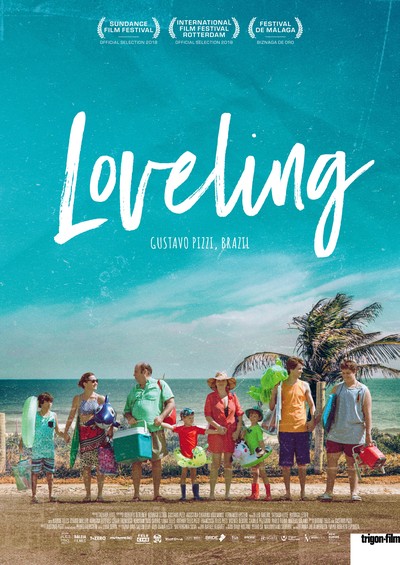 Credits
Screenplay
Gustavo Pizzi, Karine Teles
Cinematography
Pedro Faerstein
Sound
Rafael Alvarez, Pablo Bahamondez, Roberto Espinoza
Production Design
Dina Salem Levy
Language
Portugiesisch/d/f
Cast
Karine Teles, Otávio Müller, Adriana Esteves, Konstantinos Sarris, César Troncoso, Mateus Solano, Camilo Pellegrini, Ariclenes Barroso
Would you like to show this movie?

Please fill out our form.
Press voices
«Eine herzhafte, turbulente und chaotische Familiengeschichte aus dem tropischen Brasilien, irgendwo zwischen Mutterliebe und Nervenzusammenbruch. Die Energie steckt im Kino an: Man ist gepackt von der Vitalität. Man weint, lacht und fiebert mit mit dieser unglaublichen Frau!» SRF 2 Kultur
«In Sundance preisgekrönt: Eine vordergründig unspektakuläre Familiengeschichte entwickelt in Gustavo Prizzis Ensemblefilm eine persönliche Note.» NZZ

«Loveling ist eine gelungene Mischung aus warmherzigem Humor und authentischem Drama. Gustavo Pizzi inszeniert diese realitätsnahe Familiengeschichte dynamisch, temporeich sowie einfühlsam, Teles glänzt in ihrer Rolle als Irene.» Catherine Seraphim, Maximum Cinema

«Loveling ist ein emotional riesiger wenn auch kleiner Film, der einfühlsam von der Erfahrung berichtet, die irgendwann allen Eltern blüht: Dass man Kinder loslassen muss. Karine Teles spielt Irene emotional luzide und stark.» cineman
«Ein liebevoller und unterhaltsamer Einblick mitten in den chaotischen Alltag einer Grossfamilie.» Aargauer Zeitung, Aaku
«Eine Mutter-Kind-Beziehung: Der Brasilianer Gustavo Pizzi schildert im Spielfilm «Loveling» lebensnah und einfühlend die ambivalente Beziehung einer Mutter zu ihrem Sohn. «Loveling» ist ein begeisternder Film auf das Leben, ohne dass dabei die Probleme des Alltags verschwiegen werden. Vielleicht ist Pizzi hier ein realistisches Märchen gelungen, falls das möglich ist.» Hanspeter Stalder, der-andere-film
«Eine Familie, die man gleich ins Herz schliesst: Solidarisch, strahlend, zusammengehalten durch die Liebe. Gelobt seien die filmischen Geistesblitze des Regisseurs.» Valérie Lobsiger, auxartsetc
«Brasiliens Star Karine Teles glänzt als Mutter mit vollen Händen in einem Melodram, das mit gelebter Wahrheit und alltäglichen Details strahlt.» Variety
«Une tragi-comédie pétillante, pêchue, colorée, pleine de vie et de bon sens.» 20 minutes
«Une comédie tendre et joyeuse portée par l'extraordinaire énergie de son actrice principale, Karine Teles.» La Croix
«Gustavo Pizzi filme cette famille brésilienne au fil de l'eau, avec beaucoup de finesse et de délicatesse.» Le Figaro
«Un enthousiasmant feel-good movie, politique et humaniste, réalisé par un digne héritier de Ken Loach.» L'Obs
«Gustavo Pizzi parvient à donner une épaisseur réaliste à cette famille ordinaire, tressant avec habileté les moments banals et effusifs qui unissent les uns aux autres, des repas cacophoniques aux virées balnéaires, avec tout l'arsenal subtil d'humour et de bonheurs doux-amers qu'offre le quotidien.» Libération