Partner
Bernardo Bertolucci was obviously influenced by the films of Jean-Luc Godard and the worldwide political upheavals of 1968 while assembling his feature-film Partner. This unorthodox adaptation of Dostoevsky's The Double studiously avoids traditional linear storytelling and exposition techniques. Pierre Clementi stars as a repressed young student who concocts a radical alter ego for himself. As the student's two faces argue polemics, Bertolucci uses the opportunity to take freewheeling critical potshots at all forms of political ideology. Not all of Partner makes sense, but the film will command the viewer's interest from beginning to end.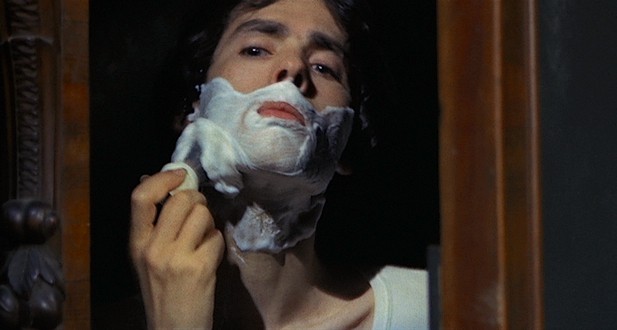 Credits
Directed by
Bernardo Bertolucci
Screenplay
Gianni Amico, Bernardo Bertolucci, nach der Erzählung «Der Doppelgänger» vo
Film Editing
Roberto Perpignani
Soundtrack
Ennio Morricone
Cinematography
Ugo Piccone
Costumes
Nicoletta Sivieri
Production Design
Francesco Tullio Altan
Production
Red Film, Giovanni Bertolucci
Cast
Pierre Clémenti, Stefania Sandrelli, Tina Aumont, Sergio Tofano, Romano Costa, Ninetto Davoli, Nicole Laguiné, Umberto Silva, Giulio Cesare Castello, Jed Curtis
Would you like to show this movie?

Please fill out our form.
Press voices
«Hinter unseren Filmen versteckte sich der Sadismus eines Kinos, das den Zuschauer zwang, sich von seiner Gefühlswelt abzuschneiden. Es wollte ihn um jeden Preis zwingen, nachzudenken (...) Aber die masochistische Haltung, Dinge zu tun, die keiner sehen wollte, Filme zu inszenieren, denen sich das Publikum verweigerte, bestand ebenfalls. Der Umstand, dass wir Angst vor einer erwachsenen Beziehung zum Publikum hatten, ließ uns Zuflucht suchen in einem perversen und infantilen Kino. Unter diesem Gesichtspunkt ist Partner wirklich eine Art Manifest des 1968er-Kinos.»
«Bertolucci war erst 28, als er diesen kühnen und subversiven Achtundsechziger-Knallfrosch ausbrütete, der Dostojewskis ‹Doppelgänger› in das Italien der Studenten-Revolten verlegt. Dort gibt der drahtige, vampirhafte Pierre Clémenti einen romantischen ‹rebel without a cause›, dessen radikales Bewusstsein geweckt wird, als ihn ein Doppelgänger zu Chaos und Aufruhr anstachelt. Partner ist nicht nur ein energiegeladenes Fossil der Fragmentierung, des filmischen Aufruhrs und des quasi-marxistischen Geheuls der sechziger Jahre, sondern seinerseits auch ein Doppelgänger, der ödipal verfolgt wird von den bahnbrechenden Werken Godards. (..) Der Film nimmt David Finchers Fight Club ebenso vorweg wie Kurosawas Kagemusha. Eingebettet in einen Morricone-Soundtrack, der so sprunghaft ist wie die Erzählung, verknüpft Partner auf coole Art Marx und Freud und ist vielleicht der erste Lacan-inspirierte Film überhaupt.»
Michael Atkinson, The Village Voice
«Mit diesen Wucherungen, Wurzelbildungen, Geflechten, Täuschungen und Wahngebilden ist Partner heute für uns das Dokument geworden, das es 1968 schon war, als es das Scheitern der akademischen Revolution belegte, während sie noch im Schwange war. Bertoluccis Partner ist der Dokumentarfilm über die Bertoluccis, die unsere Partner waren.»
«Die Tragödie eines Mannes, den ein Schuldkomplex aus früher Jugend dazu treibt, so sein zu wollen wie alle anderen. Er wird zum Mitläufer des Faschismus und lässt sich von der Geheimpolizei als Denunziant missbrauchen, muss jedoch Jahrzehnte später erkennen, dass sein Konformismus nicht aus einem persönlichen Trauma, sondern aus gesellschaftlichen Zwängen resultierte. Kühl beobachtend, stilistisch ausgefeilt und in komplizierter Rückblendentechnik analysiert Bertoluccis Film die Bewusstseinswelt des italienischen Bürgertums an einem Modellfall.»
Lexikon des internationalen Films