Styx
Rike is forty, she is a successful doctor whose job demands everything of her. She intends to use her much-needed annual holiday to fulfil her long-cherished dream of sailing single-handedly from Gibraltar to Ascension, a small tropical island in the middle of the Atlantic. Her desire for a carefree holiday seems to be coming to pass but then, after a storm, her beautiful adventure suddenly turns into an unprecedented challenge when she spots a badly damaged, hopelessly overloaded refugee boat nearby. More than a hundred people face drowning. Rike tries to organise help, but she increasingly feels that humanitarianism has deteriorated into mere wishful thinking. Wolfgang Fischer's film depicts a struggle for survival at sea which makes palpable the cruelty of the situation for people in dire straits whose fate is determined by others. The ocean becomes the scene of an allegorical, existential drama.
Festivals & awards
Berlinale 2018
Panorama Publikums-Preis, Silber
Preis der Oekumenischen Jury
Label Europa Cinema
Heiner-Carow-Preis
Filmkunstfest Schwerin (DE)
Grand Price of the Festival
Audience Award
Best Sounddesign
Batumi International Art-House Film Festival Georgien
Spezialpreis der Jury
Lux-Filmpreis, Europäisches Parlament
2. Platz
Deutscher Menschenrechtspreis 2018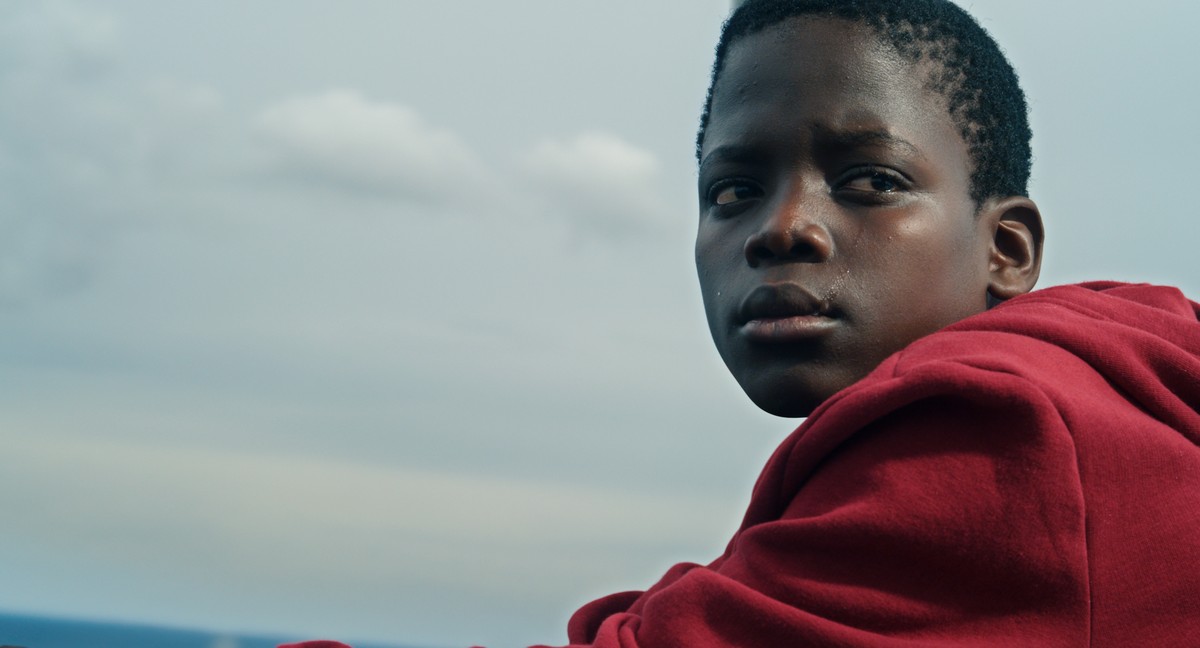 Credits
Directed by
Wolfgang Fischer
Screenplay
Wolfgang Fischer, Ika Künzel
Soundtrack
Dirk von Lowtzow
Cinematography
Benedict Neuenfels
Sound
Uwe Dresch, Andre Zimmermann
Costumes
Nicole Fischnaller
Production
Schiwago Film GmbH
Language
Englisch, Deutsch/d/f + d/i
Cast
Alexander Beyer, Gedion Oduor Wekesa, Susanne Wolff, Inga Birkenfeld
Would you like to show this movie?

Please fill out our form.
Press voices
«Eine eindringliche Studie über Souveränität und Hilflosigkeit, Schuld und Unvermögen. Die erste Hälfte des Films ist das Porträt einer starken Frau, allein im Atlantik, mit schöner Sicherheit und Souveränität gespielt von Susanne Wolff.» Christina Tilmann, NZZ
«Styx ist unbedingt sehenswert!» FAZ - Frankfurter Allgemeine Zeitung, Verena Lueken

«Ein Weltdrama in der Nussschale. Der Film erzählt sehr glaubwürdig und sehr eindringlich, wie jemand, der sonst seine Handgriffe und Notfalltechniken beherrscht, plötzlich in die elendeste Hilflosigkeit abstürtzt.» Christoph Schneider, Züritipp
«Die aufreibende Chronik eines moralischen Dilemmas.» Michael Ranze, Filmbulletin
«Hauptdarstellerin Susanne Wolff schafft es allein durch ihre Mimik, die inneren Konflikte ihrer Figur sichtbar zu machen.» Aargauer Zeitung
Gespräch mit Wolfgang Fischer und Susanne Wolff

«Styx ist der richtige Film zur rechten Zeit. Das Flüchtlingsdrama auf hoher See könnte nicht besser in die Zeit passen. Das Dilemma des Westens, gebündelt in einer gnadenlosen Überlebensgeschichte. Seine Kraft zieht der Film aus dem Spiel seiner Hauptdarstellerin Susanne Wolff, die als Solo-Seglerin Rike gewissermassen den Westen verkörpert, souverän und sexy.» Süddeutsche Zeitung, Martina Knoben

«Die hervorragende Darstellerin Susanne Wolff bricht die Geschichte runter auf ein spannendes Drama ohne falsche Gutmenschen-Töne.» Matthias Lerf, Sonntagszeitung
«Starkes Drama um eine Seglerin, die auf ein manövrierunfähiges Boot voller Flüchtlinge trifft, das zu sinken droht.» Mathias Heybrock, Annabelle
«Styx ist ein Actionfilm im elementarsten Sinn des Wortes: ungemein physisch und handlungsorientiert in seinem Fokus auf diese alleinige Hauptfigur.» Florian Keller, WoZ
«Mit überzeugendem Plot und eindrücklichen Naturaufnahmen thematisiert Regisseur Wolfgang Fischer das Grauen, das sich auf dem Meer vor der Festung Europa abspielt. Das Kammerspiel auf See ist packend, aufwühlend und keine Minute zu lang. Und einer der wichtigsten Filme des Jahres.» Medientipp, Laura Lots
«Der Segeltörn ist so packend gefilmt, dass wir uns mit Rike auf dem Boot wähnen. Das ist Kino am Puls der Zeit.» Aaku
«Regisseur Wolfgang Fischer nutzt seine Geschichte, um sich dem Flüchtlingsthema auf eine sehr direkte Art zu nähern, indem er das Abstrakte abstreift und den Zuschauer in Form der Hauptfigur direkt mit dem Problem konfrontiert.» Peter Osteried, cineman.ch
«Styx ist mit seiner packenden Inszenierung, der Mischung aus quasidokumentarischer Nüchternheit und aufwühlendem Psychodrama, mit spektakulären Bildern, gedreht auf offener See, und mit seiner äusserst sparsamen Orchestrierung ein rundum grossartiger Film. Wolfgang Fischer zeigt in seinem vielfach preisgekrönten Spielfilm das Drama "solcher Fälle" von Flüchtlingssterben und unterlassener Hilfeleistung auf inhaltlich wie formal bestechende Weise.» Badische Zeitung, Gabriele Schoder
«In seinem Film Styx schickt der österreichische Regisseur Wolfgang Fischer eine Einhandseglerin auf eine Atlantik-Reise. Sie träumt vom Paradies. Und landet in der Hölle.» Die Zeit, Thomas Assheuer
«Der hochaktuelle Kinofilm Styx wirft Fragen auf, denen auch der Zuschauer nicht entkommen kann.» MDR Kultur
«Styx ist ein grossartiger Film. Keine kunstvolle Parabel, die in ihrem eigenen Nabel bohrt, sondern ein grosses Stück Filmliteratur, das einem das Thema unsere Zeit so hautnah heranbringt, dass es fast schon schmerzt.» Uncut Movies
«Packend und puristisch: Wolfgang Fischers Drama Styx erzählt vom moralischen Dilemma einer Seglerin, die einem Flüchtlingsboot begegnet.» Tagesspiegel
«Eine präzise inszenierte Allegorie.» Filmdienst
«Styx ist zunächst vor allem ein Abenteuerfilm. Gefilmt mit äusserster Präzision und mit höchster Kunst.« Kinozeit
«Styx ist ein künstlerisch herausragender und spannungsvoller Film. Er überzeugt die Ökumenische Jury mit der Geschichte einer guten Samariterin, die in sich ihrem Einsatz für Flüchtlinge als kompromisslos und zugleich klug erweist, und darin eine überzeugende Antwort gibt auf eine der grössten ethischen Herausforderungen unserer Zeit.» Jurybegründung Berlinale
«Styx is a simple but highly dramatic story that has a very clear and powerful message – we in Europe cannot ignore the refugee situation. We must face it and find solutions. Susanne Wolff is remarkably strong as a lone woman sailor in mid Atlantic who comes across a boatload of people in dire need of help. Great cinematography and sharp editing drive the drama, and the imaginative and skillful sound design use the ocean and wind to heighten the tension. We feel that audiences across Europe will be gripped by this emotional film.» Europacinema
«Engrossing. As in Dunkirk, elemental depictions of sea, sky and survival take precedence over character beats.» Screen International
«A spinning moral compass and a topical dimension that proves even more gripping than its brilliantly achieved visceral action.» Variety

«Avec sobriété, Styx dépeint l'enfer du dilemme, l'aisance et l'insouciance rattrapées par le sentiment d'impuissance. Et renvoie la question en pleine figure du spectateur.» 20minutes
«Un très beau film qui sublime l'océan et qui pose les bonnes questions.» La Liberté