The Invisible Life of Eurídice Gusmão
Rio de Janeiro, 1950. Eurídice, 18, and Guida, 20, are two inseparable sisters living at home with their conservative parents. Although immersed in a traditional life, each one nourishes a dream: Eurídice of becoming a renowned pianist, Guida of finding true love. In a dramatic turn, they are separated by their father and forced to live apart. They take control of their separate destinies, while never giving up hope of being finding each other. A tropical melodrama from the director of Madame Satã.
BONUS: Karim Aïnouz in Toronto (english)
Festivals & awards
Cannes Film Festival 2019
Prix Un Certain Regard Award

Denver International Film Festival 2019
Krzysztof Kieslowski Award, Honorable Mention
Film Independent Spirit Awards 2020

Havana Film Festival 2019
Coral Best Art Director Rodrigo Martirena

International Cinematographers' Film Festival Manaki Brothers 2019
Golden Camera 300 Hélène Louvart

Jerusalem Film Festival 2019

Lima Latin American Film Festival 2019
APRECI Prize Honorable Mention; Audience Award Best International Film; Best Cinematography

Mar del Plata Film Festival 2019

Munich Film Festival 2019
CineCoPro Award

National Board of Review, USA 2019
NBR Award Top Five Foreign Language Films

Palm Springs International Film Festival 2020

São Paulo Association of Art Critics Awards 2020
APCA Trophy Best Actress Carol Duarte, Julia Stockler

Transatlantyk Festival: Lodz 2019

Valladolid International Film Festival 2019
Best Actress Julia Stockler, Carol Duarte
FIPRESCI Prize Best Film
Silver Spike Best Film
Sociograph Award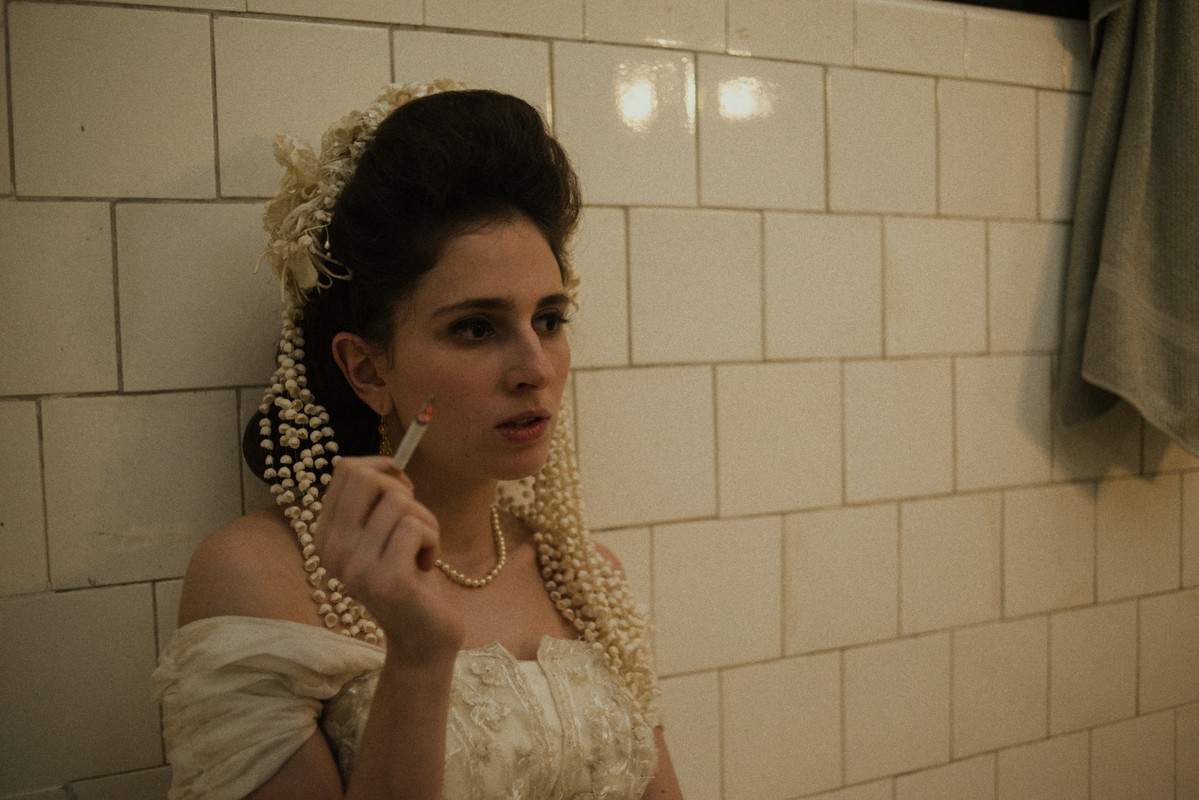 Credits
Original Title
The Invisible Life of Eurídice Gusmão
Title
The Invisible Life of Eurídice Gusmão
Screenplay
Murilo Hauser, Inés Bortagaray, Karim Aïnouz - based on Martha Batalha
Soundtrack
Benedikt Schiefer
Cinematography
Hélène Louvart
Sound
Waldir Xavier, Rodrigo Maia Sacic
Production Design
Rodrigo Martirena
Production
Rodrigo Teixeira
Language
Portugiesisch/d/f oder i
Cast
Fernanda Montenegro, Carol Duarte, Júlia Stockler, António Fonseca, Gregório Duvivier, Marcio Vito, Cristina Pereira, Maria Manoella, Nikolas Antunes
Would you like to show this movie?

Please fill out our form.
Press voices
«Der Regisseur Karim Aïnouz findet im Alltag normaler Frauen ein Mass an Leid und Stärke, das es mit jeder Heldengeschichte aufnehmen kann. Der Film flimmert, pulsiert, atmet.» Nina Jerzy, NZZ
«Grosses, grandios komponiertes und gespieltes Schicksalsdrama.» annabelle
«The Invisible Life of Eurídice Gusmão ist ein sehr sinnliches Frauen- und Gesellschaftsporträt über mehrere Jahrzehnte, das eine ungeheure erzählerische Kraft entfaltet; ein Film über gesellschaftlich akzeptierte Unterdrückung, aber auch über die Sehnsucht nach bedingungsloser Liebe.» Regina Grüter, Aargauer Zeitung
«Dabei müssten die Leute in einen Film wie den brasilianischen "A vida invisível de Eurídice Gusmão" von Karim Aïnouz stürmen... ein Film über zwei Schwestern, jede rebellisch auf ihre Weise, die sich in den späten Fünfzigern aus den Augen verlieren. Ein Film, der unsichtbare Biographien sichtbar macht (inspiriert von dem gleichnamigen Roman von Martha Batalha) und überreich ist an sinnlichen Details, Gesten, Tragödien und neuen Heimaten.» Verena Lueken, Frankfurter Allgemeine Zeitung
«A vida invisível , nach dem Roman von Martha Batalha, ist ein wuchtiges, überbordendes Melodram, in den 1950er Jahren angesiedelt, getränkt von tropischer Schwüle und Hitzköpfigkeit.» Wolfram Knorr, Die Weltwoche
«Sehenswert und berührend.» Cineman
«Eine filmische Beweisführung für die Aussichtslosigkeit, ein Leben ausserhalb der patriarchal vorgeschriebenen und die Frau als solche per se unterdrückenden Rolle führen zu wollen - ob aufmüpfig oder folgsam.» Thierry Frochaux, PS
«Das epische Melodrama A Vida Invisível de Eurídice Gusmão erzählt die Geschichte zweier Schwestern, die mit Worten getrennt werden. Das ist toll gespielt, berührend und herzzerreissend, jedoch zu keinem Zeitpunkt kitschig. Brasiliens Oscar-Einreichung für den besten internationalen Film bietet ganz grosses Gefühlskino.» Christoph Schelb, outnow
«Zeitreise zweier Frauen - ein bewegend schönes Stück episches Kino aus Brasilien.» art-tv
«In Cannes in der Kategorie Un certain regard ausgezeichnet, skizziert der brasilianische Regisseur Karim Aïnouz ein ebenso lebensfrohes wie tieftrauriges Melodrama zweier Schwestern, die sich den Regeln der patriarchalischen Gesellschaft fügen müssen.» Züritipp
«Une fresque intime et ambitieuse qui dit le lien indestructible entre soeurs, incarnées par deux comédiennes charismatiques. On pleure de bonheur.» rts
«Un mélo imposant au propos féministe pertinent.» Le Matin Dimanche
«Une fresque sociale et féministe, loin des clichés habituels sur le Brésil, et une galerie de portraits de femmes dominées par les hommes et l'ordre social.» France Culture
«D'une injustice si révoltante qu'il fait mal au ventre, ce film dépeint aussi l'une des plus belles histoires d'amour du cinéma.» 20 Minutes, Marine Guillain
«Un grand film abouti sur tous les plans.» RTS La Première, Jean-Philippe Bernard
«On est complètement emporté par ce flot d'émotions.» RTS, Raphaële Bouchet

«Karim Aïnouz signe un grand mélodrame féministe en hommage aux lumineuses héroïnes almodovariennes.» Konbini
«Le film est incroyablement beau, sa lumière (signée de la grande Hélène Louvart), ses couleurs, ses cadres et textures, et toujours à la limite de la faute de goût que le mélo exige, dans la crudité des humeurs et l'excès coloré.» Libération
«Sur un fil tendu quelque part entre Almodovar et Wong Kar-wai, ces demoiselles de Rio déploient le récit d'une vie de résilience et de larmes sur fond d'émancipation. Un mélo brésilien stylisé et feutré.» Paris Match

«Romanesque en diable, cette tranche de vie au long cours est surtout une splendide évocation de femmes privées de la liberté d'aimer comme d'être indépendantes.» Notre Temps
«A nourishing melodrama elevated by Karim Aïnouz's singular, saturated directorial style.» Variety

«A hounting drama that quietly celebrates the resilience of women.» The Hollywood Reporter

«Un film d'époque émouvant et déchirant.» Screen Daily
«Un récit vibrant sur la quête de liberté.» Le Parisien
«Le film trouve sa beauté propre dans son souffle biographique, cette façon de rapporter l'existence au temps qui passe et transforme tout, suscitant d'une sœur à l'autre, d'une époque à la suivante, de puissants courts-circuits émotionnels.» Le Monde
«Un mélo tropical aux couleurs splendides et saturées et aux émotions tragiques, sensuelles et exacerbées.» Grazia
«Si c'est du mélodrame, c'est seulement dans le meilleur sens du terme.» Sight&Sound