Captains of Zaatari
Mahmoud and Fawzi have been living in the Zaatari Refugee Camp in Jordan. Though they both have no sense of what the future holds for them, they focus their energy together on their first love: soccer. Despite the dire circumstances in the camp, they practice day in and day out, believing firmly that playing professionally is their ticket to freedom.
When Aspire Academy, one of the world's leading sports academies, arrives to pick players for an international tournament in Doha, they quickly identify Mahmoud as a talent and fly him there, while Fawzi is left behind due to a technicality. Mahmoud is boarding a plane for the first time and is taking in the experience, while Fawzi is facing the difficult reality in Zaatari.
Unexpectedly, the Aspire coaches decide to fly Fawzi in to join his team. The two best friends train and compete in the most important soccer matches of their lives, while their families in Zaatari watch via satellite. After the final match, they speak at a press conference. On behalf of the displaced people of Syria, they make clear that people need an opportunity, not pity. Three years later they grew to young men. They are still stuck in Zaatari, still troubled by fears of an insecure future.
Festivals & awards
Sundance Film Festival
Minneapolis St. Paul International Film Festival
Moscow International Film Festival
San Francisco International Film Festival
Seattle International Film Festival
Visions du réel Nyon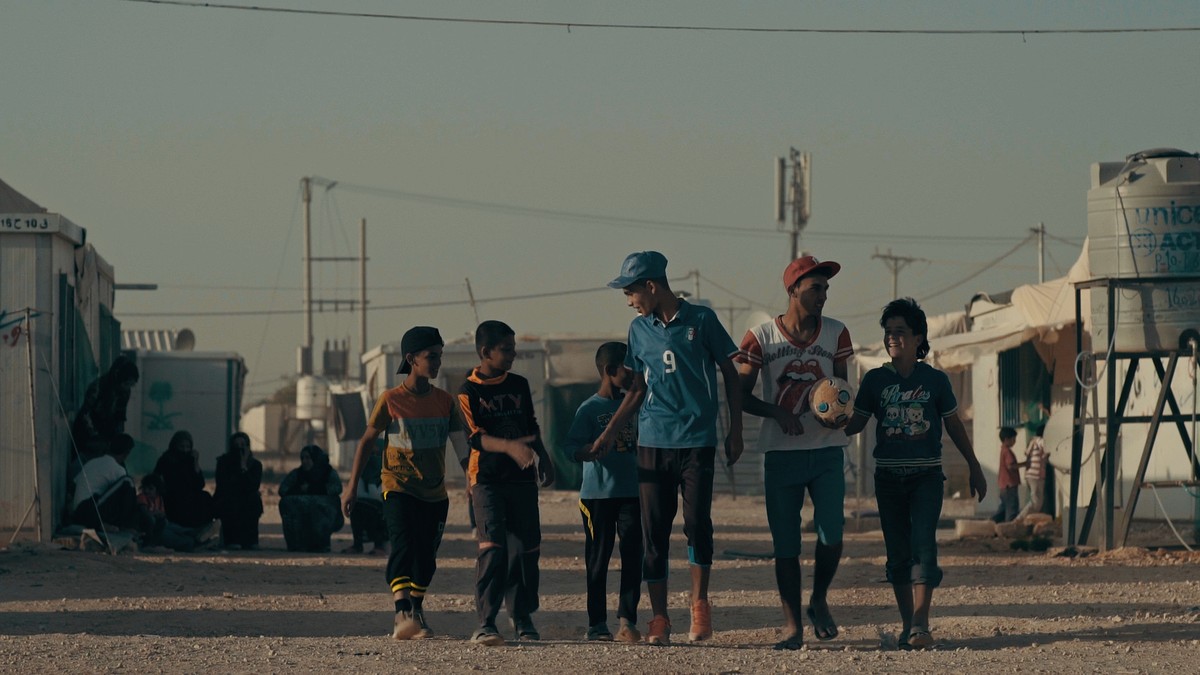 Credits
Original Title
Captains of Zaatari
Film Editing
Menna El Shishini
Cinematography
Mahmoud Bashir
Sound
Cherif Allam, Rana Eid
Production
Ali El Arabi, Aya Dowara, Amjad Abu Alala, Michael Henrichs
Cast
Mahmoud Dagher, Fawzi Qatleesh
Would you like to show this movie?

Please fill out our form.
Press voices
«Auch wenn er die Realität der Geflüchteten nicht ausblendet, Ali El Arabi setzt den Fokus auf etwas Positives, auf das, was den Jungen Halt, Zugehörigkeit und auch eine Perspektive gibt. (...) Ihre Begeisterung für den Sport gibt Fawzi und Mahmoud eine weitere Rolle, als nur die des Flüchtlings. Sie sind in erster Linie junge Männer mit Träumen, Talenten und Ambitionen, nicht einfach nur Menschen, denen Schlimmes widerfahren ist. Das Publikum fiebert in Captains of Zaatari mit den Jungen mit.» SRF2 Kultur, Ann Mayer
«Der ägyptische Dokumentarfilmer Ali El Arabi hat Fawzi und Mahmoud sechs Jahre lang immer wieder besucht und festgehalten, wie sie ihre Träume verfolgen. Dem Elend im Lager stellt er umso aufregendere Fussballspiele entgegen.» Züritipp, Gregor Schenker
«Ein bewegendes Porträt einer Freundschaft und ein Plädoyer für die Hoffnung.» Marco Albini, Outnow
«Regisseur Ali El Arabi zeigt, wie der Sport helfen kann, Brücken zu schlagen. Ein bildgewaltiger Dokumentarfilm.» Amnesty International Schweiz, Boris Bögli
«Mahmoud und Fawzi analysieren pointiert und emotionslos, was es bedeutet, ein Flüchtling zu sein. Das berührt ganz tief. Ein intimer Einblick in eine humanitäre Katastrophe und eine Ode an die menschliche Resilienzfähigkeit!» kath.ch, Natalie Fritz
«Bildsprache, Lichtführung und Inszenierung befeuern die Traumhaftigkeit mittels ihrer stupenden Gesamtkomposition.» P.S. Zeitung, Thierry Frochaux
«Der intime, authentische Dokumentarfilm ist ein Plädoyer für Menschlichkeit – über Verpflegung, Fürsorge und Mitleid hinaus, ein Film auch über Träume und Chancen.» Filmblog Textatur, Rolf Breiner
«Ali El Arabi gibt in seinem Dokumentarfilm nicht nur dem Flüchtlingslos ein konkretes Gesicht, sondern beschwört auch Fussballleidenschaft und lässt eindrücklich Welten aufeinandertreffen.» Filmnetz, Walter Gasperi
«Ein Dokfilm, der auf spielerische Art Einblick gibt in das Leben syrischer Flüchtlinge.» kulturtipp
«Der Film thematisiert Fussball als Ausweg, der (amerikanische) Traum so vieler unterprivilegierter Jugendlicher, und zeigt die Geschichte einer Freundschaft.» Luzerner Zeitung
«Ali El Arabi begleitet die beiden aus nächster Nähe auf ihrem aussergewöhnlichen Weg und liefert die Geschichte einer einzigartigen Freundschaft voller Hoffnung und Entschlossenheit.» Visions du réel, Aurélien Marsais
«Die bewegende Geschichte zweier syrischer Teenager und ihrer leidenschaftlichen Liebe zum Fussball.» Variety
«Eine herzerwärmende Geschichte über die Freundschaft zweier Jungs, die die Liebe zum Fussball und zueinander verbindet.» RogerEbert
«Full of human touches and radiating a spirit of positivity.» Screen International
«Beautifully shot, impeccably heartwarming, and far more entertaining than anything bent like Beckham, we have this true story to give us just a little bit of hope.» Film Threat