Piravi
An ageing father waits, in vain, at the bus stop for his son Raghu, a student at the University of Trivandrum, who is supposed to be coming home for the holidays. The elderly Chakyar's eager happiness slowly turns to disappointment and then anxiety. After several days with no news of Raghu, his family learn that the police have arrested him for singing revolutionary songs at the university's annual fête. Chakyar goes to the capital, hoping to find support from the Minister of Internal Affairs, and is soon joined by his daughter, who does not, however, share his optimism. When it becomes clear that Raghu cannot escape a jail sentence, the old man gradually loses his reason ... In Piravi, Shaji N. Karun denounces not only the corruption that exists within the establishment, but also focuses on the impotence of the individual in the face of an oppressive system. By keeping Raghu off-screen, the director conveys a sense of absence and uncertainty with a rare intensity.
Festivals & awards
Cannes Film Festival
Golden Camera - Special Mention
Bergamo Film Meeting
Bronze Rosa Camuna
Chicago International Film Festival
Silver Hugo
Fajr Film Festival
Crystal Simorgh
Filmfare Awards South
Best director, best actor
Fribourg International Film Festival
Audience Award, Distribution Help Award
Hawaii International Film Festival
East-West Center Award
International Film Festival Innsbruck
Best Film, Audience Award
Locarno International Film Festival
Silver Leopard, Prize of the Ecumenical Jury - Special Mention
National Film Awards, India
Golden Lotus Award: Best Film
Silver Lotus Award: Best Actor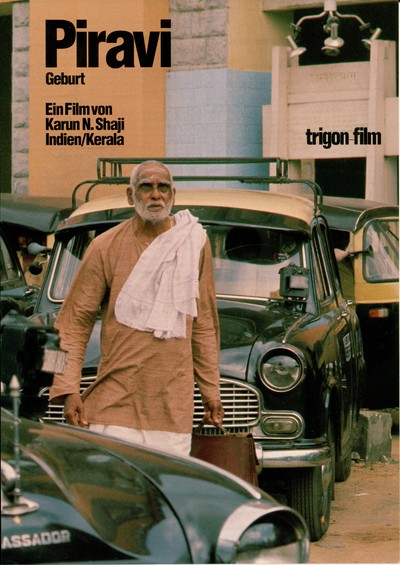 Credits
Directed by
Shaji N. Karun
Screenplay
S. Jayachandran Nair
Cinematography
Sunny Joseph
Production
Film Folk, Trivandrum - S. Jayachandran Nair
Cast
Premji, Archana, C.V. Sreeraman, Krishnamurti, Rahul Lakshman, Gopalakrishnan, Mullanezhi
Would you like to show this movie?

Please fill out our form.
Press voices
«Ein film, der in seiner Behutsamkeit und Geduld fesselt und betört.»
Eine grossartige und feinfühlige Hymne an die Vaterliebe - die Bilder sind so dicht wie ein Film von Bresson.»
«In einem fast unheimlich ruhigen Rhythmus gehalten, eröffnet Piravi keinen leichten Zugang zu der verschwiegenen, vom Ritual bestimmten Welt, in der er angesiedelt ist. Doch die kontemplative Geduld, die Shaji für seine Figuren und ihre atmosphärisch dicht eingefangen Umgebung aufbringt, macht den Schmerz, macht die Trauer unausweichlich nachvollziehbar. Piravi ist ein elegischer Film.»
Ein Warten aus dem Bewusstsein der Verwandtschaft, der Zusammengehörigkeit heraus, ein - trotz indischen Vorzeichen - geradezu biblisches Warten, in dem sich das ganze Leben und seine Erfüllung in der Verantwortung spiegelt.»