Shizukanaru Ketto
At the end of the war, doctor Fujisaki is wounded during an emergency operation in the hospital. A little later he notices that the patient is suffering from syphilis and that he has infected himself. Fearing to pass on the disease, he breaks up with his fiancée after the war and silently fights his illness with the means available at the time. His former patient, however, lives carelessly and marries; his deformed child is born dead. The "Arztfilm" was a popular genre in the post-war years, especially in Germany. Kurosawa, who had already focused on a doctor in Drunken Angel the year before, adapted a successful play here.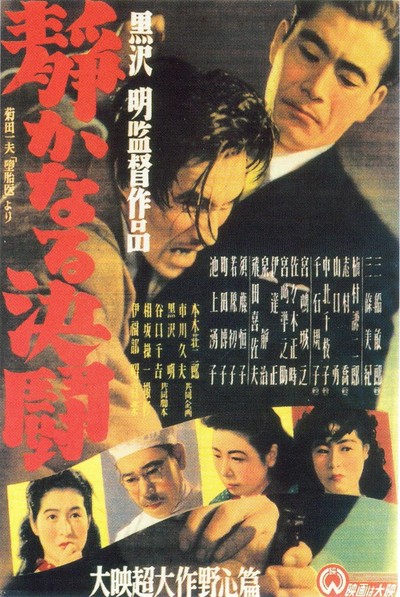 Credits
Original Title
Shizukanaru Ketto
Directed by
Akira KUROSAWA
Screenplay
Kazuo Kikuta, Akira Kurosawa, Senkichi Taniguchi
Film Editing
Masanori Tsujii
Cinematography
Soichi Aisaka
Production Design
Koichi Imai
Production
Hisao Ichikawa, Sojiro Motoki
Cast
Toshiro Mifune, Takashi Shimura, Miki Sanjo, Kenjiro Uemura, Chieko Nakakita
Would you like to show this movie?

Please fill out our form.